Product Description
Vespucci Traditional Dressage Bridle
Strut down centerline in style with a Vespucci traditional dressage bridle. No frills snaffle dressage bridle with a broad noseband measuring 1.5 inches wide. Many horses enjoy a broad noseband because they can reduce irritating pressure points on the horses face. Quality, Vespucci leather is dyed through so there is no fading or color rub. Choose your browband from our collection of Vespucci browbands at a reduced price when purchasing with the bridle.
Select from multiple browbands
Select from multiple reins, or no reins!
1.5 inch wide noseband
Includes flash
High quality, dyed through leather
Only available in horse size (highly adjustable)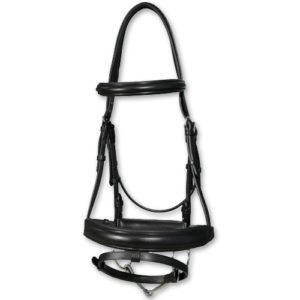 Choose Your Discounted Reins
Reins are a personal thing. To keep the price of the bridle low, we don't "include" reins with the Vespucci traditional dressage snaffle bridle. Instead, we do offer them at a discount if you want them to be included.
Black leather reins with grips and hook studs: Regularly $135, Discounted to $85 with purchase of the bridle.
These are the most popular of our dressage reins. They measure 54 inches long and have hook stud hardware at the bit and a buckle in your hand.
Black rubber reins with buckles or hook studs: Regularly $155, Discounted to $95
Another great choice for dressage reins. They also measure 54 inches long. Choose your hardware – either buckles or hook studs at the bit, buckles on both at your hand.
Choose Your Discounted Browband
Like reins, fancy browbands are a personal expression – not something that's typically included with a dressage bridle. We include a plain black browband with each bridle sold. You can upgrade this to a more fancy one for a discount when you purchase the bridle.
Queen Swarovski Crystals: Regular $170, Discounted to $120

Petite Double Pearl: Regular $88, Discounted to $65

Silver Clincher: Regular $60, Discounted to $35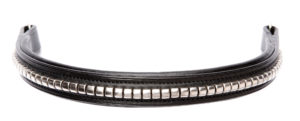 Care For Your Dressage Bridle
Daily cleaning would be best but, let's be real… just wipe it down after every use. Use Amerigo Natural Leather Care on a weekly basis to keep your Vespucci dressage bridle looking sharp, and lasting a lifetime.