Product Description
Red Barn Stirrup Leathers
Red Barn stirrup leathers are made of English calfskin leathers wrapped around a nylon core. These leathers feature half-inch holes for that perfect stirrup length.  Red Barn specifically designs these Nylon core leathers strength and durability. The nylon is covered in calfskin to help protect your boots and saddle from abrasion as well as add a classic look. Low profile buckles keep bulk under your leg to a minimum.
Nylon core

Added strength and durability
Won't stretch out

Wrapped in soft, English calfskin

Reduce saddle and boot damage

Low profile buckles
Deeply stamped numbers

Easily to read numbers that won't rub off

Use as dressage leathers jumping saddle leathers
1/2 inch holes for great adjustability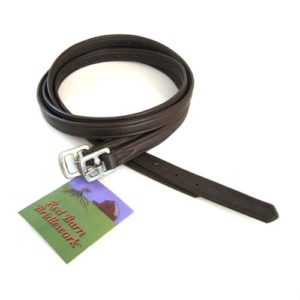 Made of soft, English leather. For use on dressage, show jumping or cross country saddle. Try them with MDC Stirrups! Red Barn calfskin stirrup leathers available in 48″ – 63 inch lengths.
Nylon Core Stirrup Leathers
The nylon core of these leathers will help keep them from stretching out. They aren't exactly no stretch stirrup leathers, but the nylon will resist stretching out. We suggest you don't use your stirrup as a mounting block though… check out our three step mounting block, it will save your nice stirrup leathers – and your horses back!
Calfskin Wrapped Leathers
Keep your saddle and boots safe from grainy, shoddy leather with Red Barn stirrup leathers with calfskin. English leather is soft, smooth and durable. It's also widely considered a more ethical source of leather when compared to leather from India.
Low Profile Stirrup Leather Buckles
Feel that? Nope. The metal buckles on these stirrup leathers are super low profile.
Deep Stamps
We might be stretching it here with the feature set, but Red Barn stirrup leathers feature deeply stamped numbers that won't rub off. It's a great characteristic to have, especially since you will own these high-quality leathers for a while.
From England, with love.