YES – We Match Online and Offline Prices
We want to first thank you for wanting to support your fellow riders and our small, veteran owned business. It will take you an extra step in the checkout process for us to match a price: Simply send us an email with the product you want & a link to where you have found it for less.
We will make it as painless as possible. Once we verify the details of the competitor price IE shipping charges, we will either provide you with a coupon code for the difference or let you know we cannot match that price. It happens… sometimes tack shops go out of business and liquidate their products at lower than cost prices. In that situation – GO FOR IT! Get those good deals!
This can take a matter of minutes or up to a business day.
Here is the latest example of us matching a price: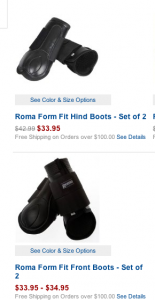 Roma Form Fit Hind Boots & Roma Form Fit Front Boots were seen by one of our local San Diego beginner novice eventers for less. This rider even called out the fact that Roma's version of these boots are EXACTLY THE SAME as ones we sell without a brand name on them. We not only matched this price but lowered our prices to match the advertised price – considering their $100 minimum shipping policy.
Matching Offline Prices
Most online shops have at least a minimum offline presence such as going to horse shows with a mobile unit. If you find a product that's priced below ours, we suggest you pick it up. We will match it, but the time & effort that retailer has put into showcasing that product deserves your dollars – and we don't have to waste dollars in shipping. If it's something that you really want to buy from us (thanks!), please simply shoot a picture of the item / price tag & share it with us on our Facebook or Google+ page. We'll do the same thing as internet pricing – let you know that's a GREAT deal and you should go for it or give you a coupon code. Please consider shipping expenses if the item is less than $75.