Product Description
Roll Top Horse Jump with Turf
Perfect for indoor eventing or the show jumping ring, roll top horse jump with turf. Jump has a 3-foot span and is 5 feet long with a 2'7″ height. The roll top jump fits perfectly in its included stands. Stands increase height by one foot for a total of 3'7″. Roll top jump and stands ship for free within the USA. Artificial grass turf securely attaches to the roll top for use right out of the box. These are solid wood jumps, use of cross country boots for horses and safety equipment is recommended.
Roll top covered in artificial grass turf
3 feet wide, 5 feet long and 2'7″ high

Includes 1 foot high stands to increase jump to 3'7″

Waterproof materials
Heavy-duty construction so your horse doesn't put a foot through it
Free US Ground Shipping
Cross country jump flags are also available.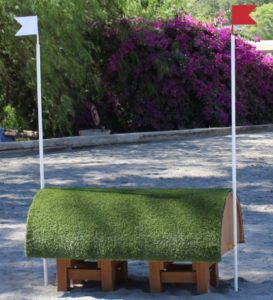 Roll Top Use
Roll top jumps can be used on their own with the included stands (as pictured) or as part of a larger jump. The beauty of this roll top is that it's a derby 1/2 round with the "roll" on both sides, meaning you can jump it both directions. The width of the roll top jump is 3 feet, allowing the horse to really stretch out over the jump.
Buy Vs. Build A Roll Top
It's really a question of how valuable your time is. A good roll top, built of quality materials will cost you some money for materials and several hours of your time. It will FAR exceed the cost of this one if you have to purchase ANY power tools. If you have a garage full of tools, plans and plenty of time, you could possibly save some money building your own roll top. Don't forget to make it waterproof if you plan on having it sit out in the arena. Also, consider the thickness of the wood you use, don't get cheap – a hoof through cheap wood will cost you dearly. Also, make it light enough to move on your own.