Product Description
Realistic Wood Log Jumps
Perfect for indoor eventing, realistic wood log jumps measure 1 foot high and 6 feet long. The logs fit perfectly in their included stands to increase height. Logs and stands ship for free within the USA. High quality, realistic HDPE log ready for use right out of the box. These are large and when filled with sand, very heavy. Use of cross country boots for horses and safety equipment is recommended.
Realistic logs from sustainable sources

Super realistic features
Lightweight with ability to add sand for weight, stability
Delivered, for free!

6 feet long, 1 foot wide, about 45 lbs.
Free US Ground Shipping
Cross country jump flags are also available.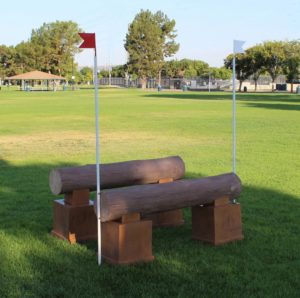 Single Natural Looking Log with Low Rise Stand
Our least expensive option. Includes a single, man made log measuring 1 foot high, 1 foot wide and 6 feet long. Includes 2 low rise stands. Low rise stands get the log off the ground while raising the jump height from 12in to 19in. You can purchase more low rise stands to increase height in 4 inch increments. Kit ships for free within the US.
Looking for a higher jump? Start with the single cross country log with stands and go from 19in to 3'7″.
Single Log with Stands
Same realistic wood log but the full sized stands increase out of box jump height from 1 foot to 3′ 7″. You can add a set of additional stands to increase the height by 4 inch increments. Kit ships for free in the US.
Set of Realistic Wood Log Jumps
Save about $200 when you purchase a set of logs (compared to single log price). The set of logs can be set from 1 foot to 3′ 7″. A set of realistic wood logs for jumping is perfect for building an oxer or even a corner. Separate the logs to make a bounce good enough for the toughest indoor eventing course. 2 log kit ships for free within the US.
Additional Stands
Low rise stands can be stacked to increase log height by 4 inches.