Product Description
Cast Iron Saddle Rack
Sleek meets rustic with the cast iron saddle rack. No question as to the durability of these iron saddle racks – they're absolutely solid. Saddle rack fits show jumping and dressage saddles. Hardware is included for easy mounting. Cast iron with laminated hard wood materials. Imported from India, ships from LA county, Ca.
Fits English jumping & dressage saddles
Fits most Western saddles
Laminated hard wood

no maintenance
scratch resistant
totally awesome

Also available: Brass and wood rack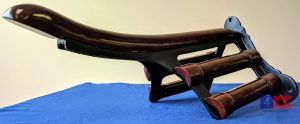 Matching Fixtures
This cast iron saddle rack is just one piece in a line of cast iron barn racks. Also available are the cast iron bridle bracket with wood and the cast iron with wood strap hook. All together, these cast iron barn fixtures make for a great, functional look in many barns. The bridle bracket and strap hook can also be used to decor your house if you're decking your house out with residential barn doors.
Cast Iron Saddle Rack Materials
This saddle rack is made of cast iron and laminated hardwood. Cast iron is made from pig iron, a base material used in many applications within the iron industry. Chunks of pig iron are remelted along with a bunch of other ingredients like steel, carbon coke and limestone. The liquid is then cast into the saddle rack mold. Laminated hard wood is used for many parts of the saddle rack. This wood is produced to seamlessly connect to the cast iron rack using screws.
Built in India, Shipped from LA
These cast iron saddle racks are built in India. They're floated over here by the 100s for your barn. Many are kept in LA, California for USA distribution. When you order a rack, it will be taken from available stock and shipped out. If the quantity you order exceeds our stock, we will ship what's available right away. The balance of your order will be shipped using the next shipment of racks from India. We will keep you updated as to the status of your order.