Great Bell Boot at a Fantastic Price
Majyk Equipe Bell Boots
Majyk Equipe Bell Boots are no turn, high quality bell boots. They are using the same high quality materials as the Majyk Equipe Elite XC Boots. The no turn design keeps the bell boots positioned correctly on your horses hoof. Correct positioning prevents overreach injuries and damage to the bell boot's triple Velcro closure system. The Majyk Equipe no turn bell boots are similar to other no turn bell boots but are HIGHLY improved from the first generation Majyk Equipe bell boots.
No turn design
Soft bell top reduces / eliminates rubs
High quality, rip resistant shell
Reinforced, large impact area made of Kevlar-like material

protects sensitive bulbs of feet
helps prevent shoes being pulled off

Won't absorb water or plant life
3 sizes fit most horses
Triple Velcro closures
Majyk Equipe manufacturers no turn bell boots in multiple colors and sizes. Proper fitting is essential for proper protection and no-turn design to work correctly. We offer exchanges in sizing if these don't fit properly the first time.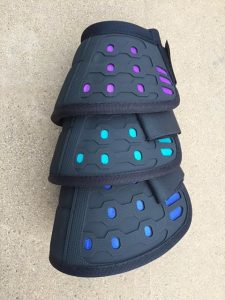 About Majyk Equipe
Majyk Equipe has taken the classic equine bell boots design and improved upon it with their no turn bell boots. The company was started by dedicated riders who were tired of the bad selection of horse boots that existed about 10 years ago. You could either buy really expensive no turn bell boots that lasted months or you could buy really cheap bell boots that lasted a few weeks. Majyk Equipe provides a solid product right in the middle – a quality horse boot at an affordable price.
We met the Majyk Equipe team at a southern california 3-day event a few years ago. They were sponsoring the event, promoting their new Boyd Martin boots. Their story was great and their products seemed solid so we decided to invest in the line. After several years carrying their products, we are extremely happy with their customer service and the quality of their products. With Eventers as our primary demographic, we rely on our supply partners to produce a solid product and wrap good customer service around it. This is hard to find in the equestrian industry but we were able to find it with Majyk Equipe.