Product Description
Color Elite Cross Country Boots
Color Elite Cross Country Boots are the latest cross country boots built by Majyk Equipe. Leveraging insights from the development and field testing of two generations of Boyd Martin Cross Country Boots, the Color Elite XC Boots are as beautiful as they are functional. The boots won't suck up water, are lightweight and breathable. Equipped with a new "forever clean" coating, the mud slides right off!
Three Layers of Protection:

Protective outer shell that's flexible, waterproof + breathable
ARTi-LAGE second layer of protection absorbs 95% of impact energy
Flexible strike guards go with your horse's movement

High quality Velcro closures (the real stuff) – 2 up front, 3 on the hinds
Inside is made of a non allergenic "biofoam" that's perforated for airflow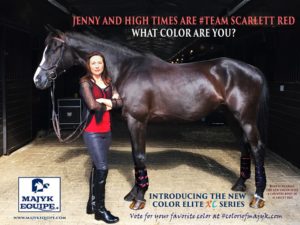 Outer Shell with "Forever Clean" Coating
Lightweight, Flexible and nearly Impenetrable
Majyk Equipe uses bonded thermoplastic polyurethane (TPU) material for the outside of the Color Elite Eventing Boots. TPU is a raw material that's great for protective horse boots due to its shore durometer. It's lightweight + flexible while not being able to be penetrated by things like cross country fences. It's the perfect perfect first layer of defense for a horse's leg. Outer shell is coated with "Forever Clean". Coating is hydrophobic, repelling mud and water which helps you keep your boots looking new for longer.
X2 Strike Guards
Flexible, 4-Way Semi-Solid + Artificial Cartilage Foam
All of Majyk Equipe cross country boots come equipped with a flexible strike plate. The strike plate is designed to "harden" when the boot is struck then return to a neutral position. The boots are equipped with a guard on the back of the front boots (tendon protection), and in the front of the hind boots (cannon bone protection). In addition to the flexible strike plate, a layer of Arti-Lage artificial cartilage foam lines the area around the strike zones. ARTi-LAGE is a shock absorbing material that mimics the human cartilage (biomimicry). The material absorbs and distributes as much as 95% of impact energy – BEFORE the flexible strike plate is even engaged.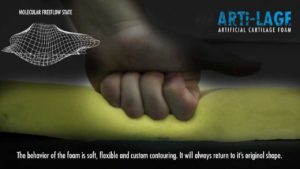 Inside Protection
Anti-fungal and breathable
Touching your horse's skin on the inside of the boot is a perforated biofoam. The perforations provide airflow to the legs, keeping them as cool as possible while out on course. The foam is microbe resistant and does not soak up water.