Product Description
Boyd Martin Cross Country Boots
Boyd Martin Cross Country Boots by Majyk Equipe are the brainchild of Boyd Martin, professional 3-day eventer and Majyk Equipe, a California based protective horse boot manufacturing company. These are the newly redesigned generation 2 model. Several improvements have been made to the new version based on 2 years of rider feedback. The white version are the new Color Elite, generation 3 model. Gen 3 Majyk boots are available in many other colors, too! Check them out on the Majyk Color Elite page.
Boyd XC Boot Features:
Lightweight & Breathable
Won't retain water (water absorbing boots get heavy, slide down)
Won't retain plant life
Soft liner won't rub – liner is not made of neoprene!
Flexible strike zones to protect tendon and cannon bone
Impact tested by independent lab
Available in Large & Medium sizes, black or white
Improvements to Generation II Model:
30% more impact protection via four way flexion strike plate – larger area, flexes with movement but hardens with impact – best of both worlds! This improvement answers the "plate or no plate" question

5 layers of protection all the way around + flexible plates on tendons (fronts) and front of cannon (hind)

More durable, especially around the bottom on the boots

Now with double stitching!!!

Improved rip stop outer material allows more flexibility / better movement with the horse
New anti fungal foam interior that won't suck up water, won't slip, breathes and is soft – even for those sensitive types

Even LESS rubbing
Will hold up longer
The Boyd Martin Cross Country boots feature integrated strike zones to protect the cannon bone and tendons. The boots shell is made of a top rated German BSF polyurethane popularly known as "rip stop TPU'. The inside of the boot features a soft liner that repels dirt and water – essential for the cross country course.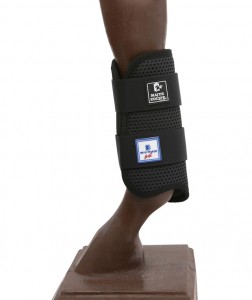 Continual Innovation Since Original Test At Rolex, 2013
Boyd Martin wasn't about to put his name on just any boot. The product designers over at Majyk Equipe worked right alongside Boyd as he trained, explained the pros and cons of existing eventing boots and came up with prototypes. It wasn't until Boyd was 100% happy with the design (several revisions later) did he give the okay to have his signature placed on the boot. Boyd Martin used the original Majyk Equipe XC boots for the first time on his horse Trading Aces at the 2013 Rolex Four Star Event at the Kentucky Horse Park. After a couple years of using the originals, Boyd Martin, Majyk Equipe and several other contributors came together to re-design the boot. During the summer of 2015, the brand new, Generation 2 Boyd Martin Cross Country Boots were introduced.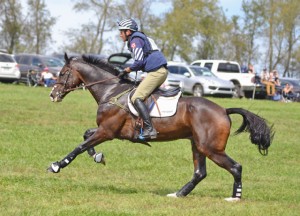 Boyd Martin on Trading Aces. Photo by Jenni Autry
Outperformed Competitors In Impact Testing
Boyd Martin Cross Country Boots have gone through successful impact testing by independent 3rd party testing lab Biokinetics of Canada. The testing measured the amount of blunt force trauma able to pass through different eventing boot models. The result of this testing showed that Majyk Equipe outperformed other brands by as much as 40%.