Product Description
Vacs No Bow Wrap (set of 2)
Vacs No Bow Wrap was designed over 30 years ago by Vacs Bandage of New Jersey and given the name Jersey No Bow Wrap. It continues to be the most popular no bow wrap on the market today.
Both sides of the no bow wraps are super soft, absorbent fleece fabric with a center of dense sponge-like foam. Vacs Bandage exclusive stitching keeps foam from bunching up. This soft pliable horse leg wrap contours to the leg for custom-like fit that will not slip. Designed exclusively to fit under Vac's Standing Bandages for use as stall standing wraps or on the road as shipping wraps.
No bow wraps packaged in pairs.
Available in 10, 12, 14, 16, and 18 inch heights
Available only in white
Use for standing wraps or shipping wraps
Wraps for horses legs, 100% Made in the USA
Vacs Bandages are 100% made in the USA, sold throughout the USA, Europe and Canada and are the highest quality equine wraps we could find. Yes, they are more expensive than other wraps but they are totally worth it. Don't be cheap, when it comes to your horses legs DO NOT COMPROMISE. Use only the best horse wraps on the market – use Vacs wraps Every Time!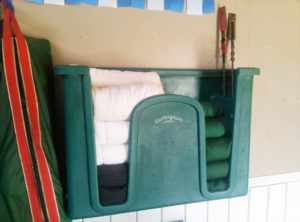 Checkout the Burlingham horse bandage rack for squared away storage & quick access to your Vacs no-bow wraps
Four Star Brand carries the following Vacs Bandages:
Wholesale No Bow Wraps / Discounted No Bow Wraps
If you would like to make a large order (over $500 retail) for your training barn, please contact us and we will put together a discounted order using our Vacs Bandage account. Note – you must provide a Tax ID Number issued by the the California BOE if you're buying in bulk and want to avoid paying sales tax up front and collect it from your end users (students, etc.). Bulk orders take 1-3 weeks to complete unless we have the stock available at our warehouse.