Product Description
Saratoga Bandages, 
An Eventing Classic
Saratoga Bandages are an extra supportive, stretchy bandage that provide more support to the lower leg of your horse than a standard polo wrap. Lightweight and breathable, Saratoga's retain only a small amount of water due to their woven fabrics. Water retention is relevant if you're using them either under or over cross country boots for extra support.
Patented silicone application on the inside of the horse wrap
Refined for a more secure fit
Pressure distributed evenly over the leg
Available in 9′ & 12′, Black or White, 2 packs & 4 packs
Choose the 12′ for applying over polo wraps or over porter boots
Saratoga bandages can also be used over a polo wrap to provide extra support while training. The firm controlled stretch of the Saratoga Bandage offers more support to the lower leg than any other equine leg wrap of its type. Due to the lightweight breathable material, these will only retain 3 oz. of water, keeping weight down even in the worst conditions.
Saratoga bandages have a patented silicone application on the inside of the horse wrap. The Saratoga Bandage has been refined for a more secure fit, providing even pressure distribution on the leg.
Black or White available (all other colors have been discontinued by Saratoga Equine)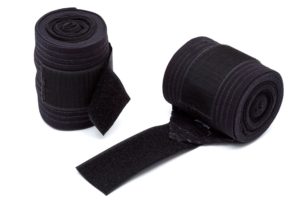 It seems like people like 2 packs of these so we sell Saratoga Bandages in sets of 2 or 4 in lengths of 9′ & 12′ x 4″ wide. We find that the back legs of warmbloods take up the 12′ bandage and the front legs the 9′. It's possible to use the 9′ all the way around and save some money, if you're not putting anything under the Saratoga Bandages such as Porter Boots.
Hand Made in the USA
Saratoga wraps are made in New York state.
Looking for some interesting background on Saratoga wraps & Porter boots? Eventing Nation has a good article on "The Eternal Quest for Better Leg Protection" where the author discusses porter boots, Ecogold boots etc.
From our blog: Saratoga Bandages – Care & Description