Product Description
APF Pro Equine
APF Pro Equine (Advanced Performance Formula for Horses) is the most advanced adaptogenic (metabolic regulator) herbal formula for use in equine athletes. APF Pro Equine was specially formulated for horses under extreme stress. It's considered an immune and metabolic supplement.
protects against gastric ulcers

if you scoped your horse and he doesn't have ulcers, APF Pro is a great way to prevent ulcers from developing. Compare the daily cost of APF Pro to ulcer medication

supports muscle development
supports proper immune function

stress of competition / travel causes a drop in immune system effectiveness. APF PRO helps reduce the effects of stress on the immune system

maintains healthy cellular metabolism

makes the best use of the feed you're already investing in

Delays the onset of fatigue during exercise
APF for horses is made from all natural ingredients
APF Pro Ingredients are extracted using the water-alcohol extract method.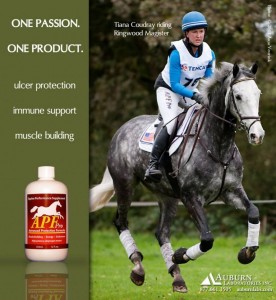 APF was ranked FIRST in a review of 20 nutritional supplements for the performance horse by the prestigious publication, Horse Journal: "…we think the standouts in our chart include: APF…
HORSE JOURNAL
June 2006
APF Supplement Dosage Recommendations
APF for horses is intended for use during competition and while training for all levels of three day eventing. APF Pro should be fed daily at the rate of 2mls per 250 lbs of body weight. For horses in intense training, this dose may be divided into two servings. Optimal results may be obtained by administering the first serving within one hour of the training session and the second serving within one to 1.5 hours after exercise.
1,250lb horse should receive 10 mls per day
Apply directly to mouth using syringe or over feed
APF formula may be administered directly into your horse's mouth using included syringe or applied to top of feed.
Auburn Labs is a proud sponsor of:
Old Friends Equine, a retirement farm for Thoroughbreds