Product Description
Semi Custom Field Boots
Semi custom field boots by Italian designer Franco Tucci come in 192 different sizes, making the perfect fit for men and women easily attainable. Tucci has been designing high-end tall field boots for many years, building out custom field boots starting at $1,000. Through his years of experience, Franco Tucci has obtained thousands of measurements and customer preferences. He has used all this hard-earned data to design the EGO 7 field boots and dress boots. These two variations on English riding boots come in 192 different sizes, allowing nearly everyone to have an almost custom boot, for half the price and nearly zero waiting period.
Semi-Custom Sizing – 192 different sizes that fit men and women

elegant Italian design appeals to the most fashion-forward female rider
sporty, modern look makes this a great choice for male riders

Full-grain Argentinian leather with E-Tex, advanced material on inside of calf (touching the saddle) for extra durability and performance

super supple – ready to ride with a limited break-in period

Heavy duty hardware
Three position spur rest
Most sizes stock for immediate delivery! Some sizes will take 2-3 weeks for delivery. If you want to know how fast you can receive your new EGO 7 boots, shoot us over an email with your sizes and we'll let you know.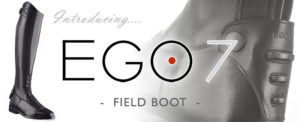 The Orion Field Boot
If you're a competitive rider who appreciates functionality and style, you will love these field boots. They're made of two primary materials: full grain leather from Argentina and E-Tex, an advanced material that is extremely durable. The hardware is top of the line and includes a fantastic warranty. Three spur rests allow for an even more customized fit.
Fitting Your New Field Boots
With 192 different size variation, you're bound to find something that fits. We wrote an entire page about fitting these boots. You can skip the entire sizing process by sending us your measurements. Need a measuring tape? We'll send you one.
Mens and Women's Sizes
One of the best things about these boots is that they look great & fit both men and women. They're sporty without being masculine, they're elegant without being too feminine. With so many different sizes, you will find the right boot if you're male or female.