Product Description
PEI Turnout Mud Fever Boots
The PEI Turnout Mud Fever Boots are advanced high-cut boots made with Air-Teque ventilated neoprene for maximum breathability. They are perfect for turning out your horse in any condition. PEI anatomically shapes their boots providing superior comfort for your horse whilst supporting the cannon bone and soft tissues. Fatigue is reduced in the tendon, fetlock, ligaments, and suspensory. The boots cover the whole of the lower leg and pastern area, making them great for use as a preventative measure against mud fever and chills. Suitable for year-round use in paddocks. The Premier Equine boots are suitable for both front and hind legs.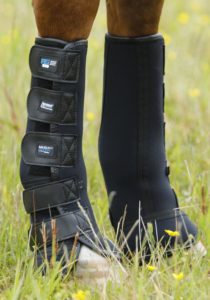 Features of the PEI Turnout Mud Fever Boots:
Optimum mud fever defense

Contoured comfort fit

Shaped around the fetlock

Lightweight durable design

Use for up to 12 hours at a time

Maximum airflow and breathability

Year-round turnout protection

Highly breathable Air-Teque specialist fabric

Extra strong and flexible straps

Maximum comfort

Can be used on both front & hind legs

Sold in pairs.
Materials and Design:
The material used to make these books has many layers which work to evenly distribute airflow throughout. Pique jersey outer and lining wicks away moisture. This makes them highly breathable, quick drying and soft to the touch.
What is neoprene? It's a material with a name that makes it sound like a high-end hair conditioner, but it's actually a material that's quite different from what people expect.
For starters, although neoprene is technically a foam, it's not quite the same material or texture as foam. Neoprene was actually designed to be artificial rubber! Both neoprene and natural rubber are flexible and water-resistant. Neoprene, however, has some qualities that make it better than rubber especially in industrial use:
Resists grease and oil.

Stands up to weathering and soil immersion.

Handle a wide range of temperatures
How to care for your PEI Turnout Boots
First, remove hair and dried sweat with a brush. Then ensure all fastenings close and machine wash at 30ºC or 86ºF using non-bio liquid. We recommend washing inside in a horse boots wash bag. Dry naturally away from direct heat sources.
Made in the UK