Product Description
Lightweight and Extremely Durable
This is the glove we all wish we knew about when we first started riding. We would likely still have it! These riding gloves are not made of material that's super pretty or flashy for the hunter ring – they're made for those who want a glove that's not going to fall apart, slip or make their hands sweat profusely.
Genuine Leather
No-slip design
Easy to wash with mild soap and some water
Will last you awhile – not one time use gloves
Close fit with velcro closures
Great for all three phases
Summer Horse Riding Gloves
Neumann summer horse riding gloves won't slip, fall apart or make you sweat to death. They were basically designed for the three day rider. Born on the football field and still wielded by professional athletes all over the world, these gloves were re-engineered and repurposed as horseback riding gloves. The palm of these riding gloves is constructed with Neumann's patented formula that permanently tackifies the leather palm for the life of the glove. The tackiness is actually enhanced during humid conditions and will remain tackified in hot through sub zero temperatures without the need for spray on adhesives. Lightweight material is extremely durable yet breathable.
These summer horse riding gloves come in two colors: Black and White. Both versions and all sizes have velcro wrist closures for a secure fit.
Tackified palm won't unintentionally slip, even in wet conditions

Great in moist conditions – like humidity (yuck)

Breathable
Lightweight
Easily cleaned
Black or white available
Winter version with fleece also available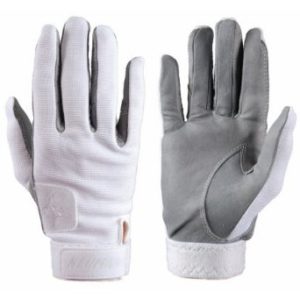 Neumann Summer Horse Riding Gloves Sizing
All sizes / colors can be worn by either gender. The summer riding gloves come in sizes XS – XL (XL in black only). Most ladies wear XS or Small. The size on the left are Neumann summer glove sizes, the size on the left are sizing of other popular brands. Conversions are estimated.
XS = 6-6 1/2
S = 7-7 1/2
M = 8-8 1/2 (8 In Roeckl)
L = 9-9 1/2
Washing and Caring for your Leather Riding Gloves
Put your summer Neumann riding gloves horse on your hands, apply some mild soap and rub with a little water. Rinse clean and squeeze out the excess water. Lay them out flat to dry. We don't suggest you put your summer riding gloves in the washing machine or the dryer. Store with the velcro unattached for a longer lifespan of the velcro. To reduce mold and other nasties, don't store gloves in your helmet.