Product Description
Natural Bathing Sponge
Natural bathing sponges come in many shapes and sizes. We only carry natural sponges due to their performance – both in how long they work and how well they clean. They also don't fall out of your hand as easily and won't roll around in the dirt like those cheap round ones! Also, many artificial tack sponges are embedded with antimicrobial ingredients like triclosan. Triclosan has been deemed a danger to human health by the US Environmental Protection Agency.
Natural bathing sponges are 5-6 inches across and 4-5 inches long

Natural bath sponges vary in size

Better at holding water, cleaner and oil than synthetics
Their shape makes them easier to hold onto
Won't roll around if dropped
Also available are natural tack cleaning sponges.
Synthetic Vs. Natural Sponges for Horse Baths
Our business strives to be as neutral to the environment as possible. When it comes to which tack cleaning sponge to sell, we had to look into the pros and cons of natural vs. synthetic sponges. The arguments are plenty against the use of synthetics. When testing sponges, we found that the tack gets just a clean using the synthetic sponges as it does when you use a natural sponge. When comparing the two for usability – the natural sponge works better due to its shape. The cheap round sponges are notorious at popping out of your hand and onto the dirty ground. They will also roll under the nearest unmovable object, it's just what they do. Natural sponges also last longer!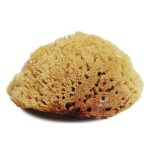 Natural Bath Sponge
Recycle Old Sponges
Once your natural body sponge has reached the end of its useful life, recycle your old sponges in a few creative ways…
absorb oil under a leaky car / truck – put a plastic bag under the sponge first
Keep water in reserve at the bottom of a planter by placing a used sponge at the bottom before adding dirt
Plug gaps in a tack room air conditioner or window with a used sponge