Product Description
Mineral Based Sunscreen
Mineral Based Sunscreen by Sun Bum (Sun Bum Signature) are premium sunscreens designed to offer the absolute best in broad spectrum sun protection for individuals who play hard and work hard out in the sun. The Sun Bum Signature line comes in multiple formats, none will bleed into your eyes, they won't make your hands slippery and won't come off in the water. Sun Bum Signature contains vitamin E, an antioxidant that helps to neutralize free radicals, helping keep your skin soft and smooth all the way up to your eventual debut at Rolex, 2082.
Sun Bum Signature line was once known as the Sun Bum Pro line of sunscreens. It's the same great mineral based sunscreen just in a different color container.
Fragrance free, organic / zinc  oxide based
Non greasy, won't make your hands slick
Non migrating, won't bleed into your eyes
Broad spectrum, protects skin from harmful UVA and UVB rays
Water resistant for up to 80 minutes
Vitamin E Enriched
Paraben Free sunscreen
PABA Free sunscreen
Oil free sunscreen
Photostable
Hypoallergenic sunscreen
Not tested on animals
About Sun Bum Signature Face Stick
Sun Bum Signature face stick was developed with a mineral base that's specifically designed to offer the highest levels of broad spectrum protection available. Sun Bum mineral based sunscreen face stick won't make your hands slippery and won't come off in water.
Sun Bum Signature Face Stick Ingredients
Zinc Oxide (7%) – natural mineral that's the broadest spectrum UVA and UVB reflector that is approved for use as a sunscreen by the FDA (there are others, but they will burn off your skin).
Titanium Dioxide (4%) – naturally occurring mineral that blocks UV radiation
Octinoxate (7.5%) – organic compound that filters and blocks UV-B rays
Octisalate (5%) – organic UVB absorption compound
About Sun Bum Signature Sunscreen
Sun Bum Signature is a line of mineral based, premium sunscreens that uses natural minerals that are specifically designed to offer the highest broad spectrum protection against the sun's harmful UVA and UVB rays. The formula is designed to not bleed into your eyes or make your hands slippery. The ingredients help make the sunscreen naturally water resistant.
We love the packaging! It's no edge design makes easy to stow away in your breeches pocket and its rubber finish makes it easy to hold onto.
Sun Bum Signature Ingredients
Avobenzone (2%) – ingredient used in sunscreen to absorb full spectrum of UVB rays
Homosalate (15%) – organic UV filter – found in only the best sunscreen lotions (expensive)
Octisalate (5%) – organic UVB absorption compound
Octinoxate (7.5%) – filters harsh UV-B rays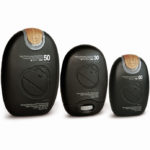 How to use Sun Bum Signature Series Sunscreen
Apply a lot (liberally) about 15 minutes prior to heading out into the sun – that will allow the sunscreen to absorb into your skin, starting the protection process.
Re-Apply after 80 minutes of swimming around at the first water  or after you dry off with a towel. Always re-apply after 160 minutes of sun exposure to maintain protection.
Why we chose to work with Sun Bum
There are many large brands of sunscreen out there. Sun Bum is a small company based in Southern Florida with another office close to us in Carlsbad, CA. They provide a great product and cool branding that fit in with our Southern California eventing lifestyle. Many of our riders frequent the surf as frequently as the arenas of area VI eventing. We live in a beautiful area that's gets it's fair share of solar radiation. Eventers need the right tools to compete, providing a bucket of Sun Bum Face Stick SPF 30 at shows and here online help them enjoy their sport in comfort and safety.

Other Sun Bum products available at Four Star Eventing Gear
We carry nearly the full line of Sun Bum sunscreen.
Sun Bum Signature series sun care (you're here!)