Product Description
Timber Tie
The Field Jumps Timber Tie is an innovative technology which allows you to create adjustable, movable, and modern cross-country jumps. Horses and riders will gain confidence by jumping at appropriate levels.
Every set comes with two Timber Ties and two Secure Ties.  Cargo Straps are an accessory that makes the Jump set complete.
How to Use the Field Jumps Timber Tie
The TIMBER TIE is affixed to a tree by means of a strap or rope. On a large tree, the strap can be looped through the holding bracket on one side, run along the back of the tree, through the next holding bracket and back along the tree to the clasp. This gives 2 layers of web strap to secure. The ratchet effect of the tie and strap will help secure the position of the log.
First, you must identify two trees that you wish to jump between.  They should be reasonably straight and evenly upright. Have ready a log of proper length bearing in mind that each tie takes 4″ of space between tree and log. Set the timber tie on the ground where you wish to align with the second tree.  After attaching it, you can then hoist the tie up the tree to the desired height. Securely tie or ratchet the cam strap in place.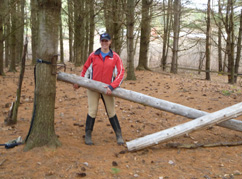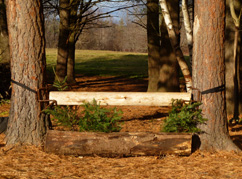 Perfect for training horses for Eventing:
Make "skinny" or wide jumps

Make horse friendly cross rails from logs

Use Field Jump Fillers under log

Bark Chips

Mulch

Kegs

Barrels

Flowers

Cordwood

Straw Bales

Small Coops and Walls

Use any log – straight or crooked
Qualities:
Hardware will not harm trees.
Remove hardware and jump easily for winter storage or at end of meet.
Remove cross piece to bring vehicle or equipment through.
Field Jumps' Promise
Proudly made in America (Poultny, VT) and with the highest quality, long lasting materials. There are no sharp edges or corners and your trees not be damaged and jumps easily move up or down. The TIMBER TIE has a coat of dark brown powder that enhances the natural look of cross country jumps. Each set includes heavy-duty releasable and reusable ties that secure the cross piece if needed.
Check out our other products from Field Jumps
Choose which Jump Set is right for you…The Timber Tie or the Timber Cup