Product Description
Field Jumps Timber Cup
The Field Jumps Timber Cup is an innovative technology which allows you to create cross country jumps that are adjustable, modern, and sensible.
 Set includes 2 TIMBER CUPS,
8 Cup Supports and 2 Reusable Ties.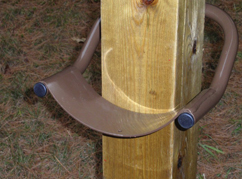 Frustrated by the lack of jumps available, Cindy Horrocks set out to make jumps that had 4 criteria. They needed to be attractive and appealing to horse and rider. Along with this, they needed to be sturdy and safe. They needed to be adjustable to keep costs down. Furthermore, they needed to be adjustable by a single person—no need to call in help. The goal was to have more riders enjoying jumping cross country at a comfortable level. More than a year later after 4 different designs, 2 engineers, interviews at countless manufacturing facilities, 3 provisional patent applications and the Field Jump System has arrived.
How to Use:
Simply affix the 8 Field Jumps Timber Cup Bracket Supports at any level on the side of your 6 x 6 in. lumber upright support. The lumber may be set securely in the ground or incorporated into a base. Next, slip the Timber Cup Bracket down the 6 x 6 in. upright and rest the back side on one of the Timber Cup Bracket Supports. It is then ready to hold a log. You can then secure the log with the optional re-useable zip tie. To adjust the height, stand at the end of the jump and hold Timber Cup Bracket sides firmly with both hands. Lift and tilt the bracket to move up or down. The weight of the log will determine if this can be done with log in place or not.
If using a post, it may be placed firmly on the ground using a posthole digger. Be sure there is an adequate length of the post in the ground to support the cross piece to prevent tipping or instability. Also be sure the supports are aligned so that cross piece is level. Slip the cup section over the post with the rounded section resting on the brackets.  This will then be pointing into the middle of the jump.  Then place a log in the cups.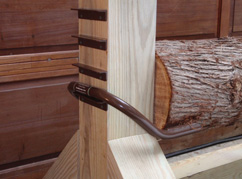 Types of jumps you can make:
Cross rails

Verticals

Oxers

Fans

Or add interest to ditches

and drops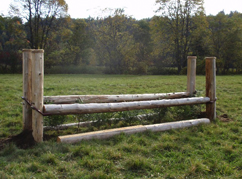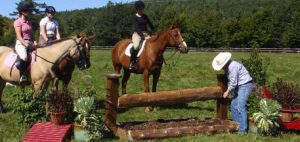 For fillers try:
Bark Chips

Mulch

Kegs

Barrels

Flowers

Cordwood

Straw Bales

Small Coops and Walls
Field Jumps' Promise
Proudly made in America (Poultny, VT) and with the highest quality, long-lasting materials—there are no sharp edges or corners. The Timber Cup gets a coating of a dark brown powder that enhances the natural look of cross country jumps. Each set includes heavy-duty, releasable and reusable ties that secure the cross piece if needed.