Product Description
Charles Owen Pro II Plus
The Charles Owen Pro II Plus is the only triple-standard, precision-fitting cross-country skull cap with a removable liner. Featuring a sized liner that allows for the closest, most customized fit yet, the Pro II Plus includes front and rear ventilation slots for superior cooling and a GRpx technology harness for unsurpassed stability. With a liner that can be replaced when it has been broken down by wear cross-country, riders can easily refresh the life of their helmet. The heat reflective paint in gold or silver aid in cooling. Also available in regular finish black, navy or pink.  
Charles Owen Pro II Plus Features
Safety rated by internationally recognized organizations

Crush resistant outer shell

Soft, comfortable interior treated with silver for automated, natural cleaning

Soft, leather-wrapped chin strap

Quick release buckle & patented harness system

Increased airflow

Removable Liner

Heat resistant color option (silver or gold)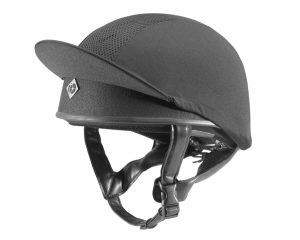 Safety Ratings
Almost every equestrian helmet is rated by one internationally recognized safety standards organization. SNELL (Based in California), ASTM (International Standard Pennsylvania), or SEI (International standard in Virginia). Charles Owen helmets, however, are certified compliant with all three.
Kitemarked to PAS015:2011
Kitemarked and CE marked to VG1 01.040 2014-12
Also, certified by SEI to ASTM F1163
The Kitemark is the registered trademark of the British Standards Institute. So, it can only be affixed to products certified by them. It indicates that the company complies with a rigorous system of regulation and testing.
Crush Resistance
The crush resistant outer shell leverages the latest in fiber-reinforced materials tech. 10 strategically placed vents in the shell to similarly prevent no loss in structural integrity.
Alloy Fasteners & Patented Harness System
Easy due to its one-handed fastener operation. It's rather like something you would find on a pilot's helmet. The lightweight alloy buckle slides effortlessly together. You will never break it! Charles Owen has a patent on their "GRpx harness system" that's standard on helmets. It's comfortable, stylish, and also super functional.
Product Care
The most important detail is that after riding, leave your helmet in a warm, dry place overnight. Do not dry in front of a fire or on a radiator. Do not store it in a plastic bag before dry.
Charles Owen helmet cleaning products are preferred. You should then follow by vacuum drying the lining. Use the minimum amount of water as helmets are difficult to dry and therefore easily become moldy.
Never dry-clean, expose to solvents, and certainly do not put in the dishwasher.
Made in the UK
Other Charles Owen Products
Charles Owen Pro II