English Tack Store in Temecula
Come visit our Temecula tack store! Our boutique style English tack store is located in south east Temecula, right off the 79 / Temecula Parkway – just 10 minutes from "Horse Valley". We feature a select variety of equestrian clothing, horse equipment and used saddles for sale. Just like our online store, we specialize in dressage equipment (including a full line of dressage legal horse bits), show jumping tack and of course, everything you need for cross country.
33321 Temecula Parkway, Temecula, CA 92592
BuyLocal@FourStarBrand.com
Between Maro's Pizza and Salon Bel Fiore in suite 102.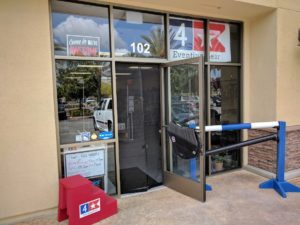 Our hours are generally as follows:
Monday – Friday: 10am – 7pm
Saturday: 11am – 3pm
Sunday: Out Riding (Closed)
"General hours" meaning that we're on horse time – which means… we might be there later, we might be there earlier. Call us if you need us to be there at a specific time: 760-906-1678