English Tack Store in Temecula
Come visit our Temecula tack store! Our boutique style English tack store is located in south east Temecula, right off the 79 / Temecula Parkway – just 10 minutes from "Horse Valley" and Galway Downs. We feature a select variety of equestrian clothing, horse equipment and used saddles for sale. Just like our online store, we specialize in dressage equipment (including a full line of dressage legal horse bits), show jumping tack and of course, everything you need for cross country.
We're now carrying American Family Feed at our Temecula tack store. We're stocking both the alfalfa & the grass base feeds.
33321 Temecula Parkway, Temecula, CA 92592
BuyLocal@FourStarBrand.com
Between Maro's Pizza and Salon Ambre, in suite 102.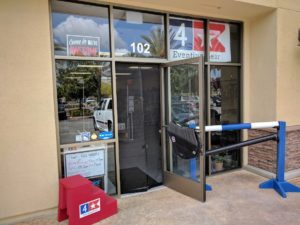 Our hours are generally as follows:
Monday – Friday: 10am – 7pm
Saturday: 11am – 3pm
Sunday: Out Riding (Closed)
"General hours" meaning that we're on horse time – which means… we might be there later, we might be there earlier. Call us if you need us to be there at a specific time: 760-906-1678