Product Description
Women's Full Seat Breeches
Looking for that perfect pair of women's full seat breeches for dressage (or jumping)? The B-Vertigo "Kimberly" women's full seat breeches are a high quality breech at a reasonable price point. They are easily comparable to breeches retailing for $100 more, without sacrificing quality, comfort, or performance. As an added bonus, they flatter many different body types and with their fashionable pockets and embellishments, you'll stand out and make just the right kind of statement!
Lightweight, soft, yet very strong fabric
Fashionable Euro-inspired fitted look
Stretchy "sleeve" around ankle area for a comfortable fit under tall boots
Coolmax fabric effectively wicks moisture to keep you dry and cool
Made from all high quality, advanced materials
B Vertigo "Kimberly" Women's Full Seat Breeches
"Kimberly" breeches offer a gal all she could ask for in a pair of women's full seat breeches. They are made from a unique fabric that is not only soft and lightweight, but also offers the perfect amount of stretch thanks to Elastane "Spandex". However, you're not sacrificing quality for comfort with these breeches – the fabric is also quite sturdy, long-lasting, and very strong. Around the ankle area of these breeches is a stretchy "sleeve" for comfort under your tall boots – no more annoying velcro or too-tight elastic! To top it all off, these women's full seat breeches include "Coolmax", an advanced fabric that is well-known for the cooling effect it creates by actively wicking away moisture.
These womans full seat breeches are made of: 79% Tactel, 19% Coolmax, and 5% Elastan.
"Kimberly" women's full seat breeches feature a fabric called TACTEL® FiberSof. Along with providing the softness and lightness we riders crave, TACTEL® is surprisingly strong. According to rigid testing, TACTEL® fiber is at least twice as strong as the competition's base fabric. What's not to love?
Two colors are available to choose from – "Fig" and "Bright White". One is great for XC & SJ & the other for Dressage – we'll leave the decision up to you. If you can't choose, buy a pair in each color and you're all set for your next event!
"Fig"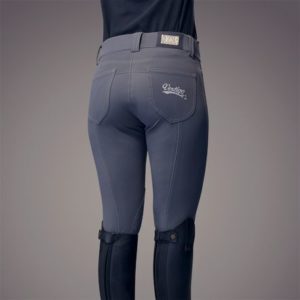 "Bright White"