Product Description
Horse Bandage Rack Built In California By Burlingham Sports
Horse bandage rack by Burlingham Sports has enough room to store bandages for 2 or three horses. There is a small compartment for your Back On Track Polos or Vacs Standing Bandages and another compartment that's large enough for 18″ Vacs Pillow Wraps. All this room comes in a super lightweight, heavy duty body. The horse bandage rack can be hung up in your tack room or stood upright on your deep freezer full of Ice Horse Ice Packs.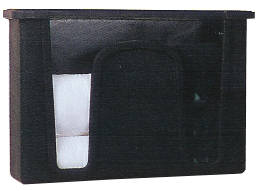 Burlingham Sports Bandage Rack Dimensions
This bandage rack is made of high density polyurethane (plastic) and weighs in at 8lbs.
Height: 18 3/4 inches (47.625cm)
Width: 27 inches (68.58cm)
Depth: 7 inches (17.78cm)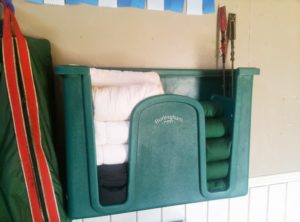 Consumer Warning!
Burlingham Sports ships this item for FREE to our customers all over the United States. Some retailers post a low price then jack it up with a crazy shipping charge. All they're doing is pocketing this charge. They incur zero expense when shipping this item. Making money off shipping is UPS's job, not ours. If you find this item for less & the price isn't being jacked up with shipping charges – take the time to contact us and we'll match that price + donate 50% of the profits to an equine charity of your choice.